Marine Issues
Problems at sea in areas beyond inshore waters are of particular concern to salmon - visit the North Atlantic Salmon Conservation Organization web site for further information. Closer to home, sea lice remain a major factor limiting sea trout production. Predation by seals is regarded as a significant problem in some parts of the WRFT area; the impact to fish populations is hard to quantify.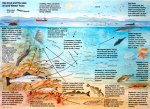 Sea Trout and the Seas Around Wester Ross
This poster (click to enlarge) shows how the survival and growth of sea trout may depend upon many factors within the coastal marine environment.
Note that a larger Adobe PDF version is available for download, below.
To download a file, right-click over it's name and choose Save Link/Target As...